Gala Dumez didn't have a typical freshman year of college. Like so many other student-athletes across the country, she didn't get to finish her first year in Lubbock with a postseason run. Although it was a disappointing end to a promising season for the Red Raiders, she understands the necessity for the unprecedented cancellations.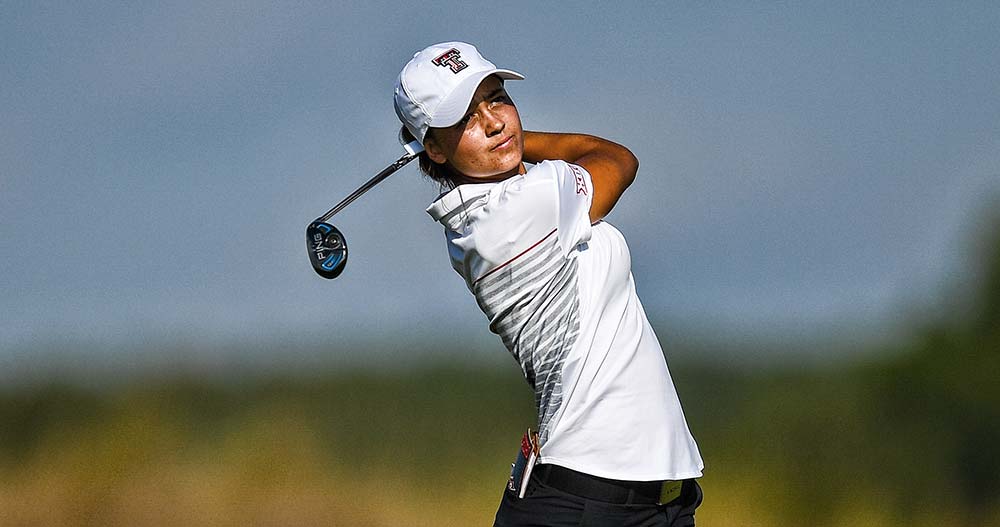 "I didn't expect any of this to happen," Dumez said. "I was doing my own thing in Lubbock and, at first, I didn't realize how big the COVID-19 crisis was. The team and I had just landed in Augusta, Georgia for our fourth tournament of the spring when we learned that the rest of the season, including all postseason play, was cancelled. I was very disappointed at first, but quickly understood that it was necessary."
Dumez, as sport management major at Tech, was raised in Bordeaux, France and competed internationally from a very young age before arriving in Lubbock. She played for the French National U18 and U16 Teams, won the French National Team U18 World Junior Girls Championship and was once ranked as high as No. 304 in the R&A and USGA World Amateur Golf Rankings.
Her impact on the collegiate level was immediate, as she posted a scoring average of 74, good enough for third best on the team in her inaugural campaign. Her first-round mark of 67 at the Jim West Challenge was the second lowest single-round score by any player this year and she notched three top-10 finishes, including a tie for 5th at the SMU/DAC Challenge in February.
Dumez contributes her early success to the facilities and resources made available by attending Tech, noting "being able to practice golf everyday is something I couldn't do in France. Competing all over the United States on tough courses, against some of the greatest amateurs in the world is truly an amazing experience. The facilities we have access too, including The Rawls Course, are incredible. It helps that Lubbock's unpredictable weather teaches me how to play in various conditions."
Tech was on track to appear in their 10th NCAA Regional under head coach JoJo Robertson before the season was halted. As was the case in many industries, decisions were made quickly, and Dumez knew she wanted to be back home.
"When France announced a national lockdown on March 17th, I decided to go back home," Dumez explained. "Spending this difficult time close to my family was important to me. The quarantine lasted two months in France and was very strict. We could go outside only for necessities like food or health care, but it couldn't exceed an hour per day. Wearing a mask was and still is mandatory in most public places."
"I was able to work a little on my golf game. Since the courses were closed, I set up a practice area in my garden. That allowed me to work on my technique. I also did a lot of visualization and meditation. It was not easy and definitely not the same as a regular practice, but I believe it benefitted my golf game."
The swift and unprecedented transition from a normal first year of school in the United States wasn't what she anticipated, but Dumez is grateful for the opportunities she's been given.
"Online classes and remote schooling went really well to finish out the spring semester," Dumez proclaimed. "The instructors were very helpful and made the transition to remote learning very easy for us. The resources given to us by Texas Tech and the Red Raider Club have been tremendous assets in our learning and ability to grow as individuals. I am very thankful for all the support we're given on a daily basis."
Although her season was cut short, Dumez is ready to get back to work in Lubbock.
"Most of what I experienced in my first year at Texas Tech was new to me," she said. "Lubbock is a very special place and I feel great when I'm there. Being a student-athlete is great, but being a student-athlete at Tech is even better. I can't wait to get back and continue this journey. Wreck 'Em!"